NBAX was commissioned to work with Adidas on their online sneaker campaign.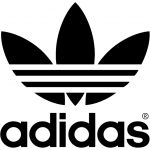 The design which NBAX created and presented to Adidas was directly and distinctly inspired by their newest product. The Adidas Tubular line uses a new sole technology which the company wanted to be reflected in the design of a standing structure. The campaign was focused around this tubular idea as a av virtual interior; in other words, a tunnel. In general, you could say that the shoe structure and mesh were folded to the inside to create the interior and the loop was reinterpreted as infinite tunnels which branch off from the central space.
  The space which NBAX designed for this campaign could be engaged in online through social media. It wasn't until afterward that it was revealed by Adidas that the entire space was a virtual one in which guests were placed in via green screen. This very concept creates and inspires a whole new idea for companies to interact with the public. Marrying the virtual and physical aspects of this imagined world required efforts in both arenas. While working on this project the contrast of the virtual work space and the real work space became very apparent and reinforced the idea that the work demanded by the physical world is far from insignificant.